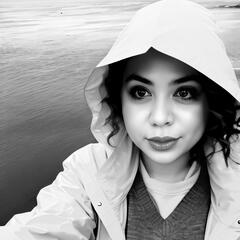 So, you want to know more?
Jessica Gleason writes to keep madness at bay. Gleason has two published novels, "Madison Murphy, Wisconsin Weirdo," and "Damned Before Breakfast" from Champagne Books. Both have been revised and are being re-released soon. She's also the author of a short poetry collection, "Sundown on this Town," available from Popcorn Press. It's her favorite of the three.Gleason's work can be found in Punk Monk, Sage Cigarettes, Maudlin House, Trembling with Fear, Dracula Beyond Stoker, and various other publications. She is a 2022 "Best of the Net" nominee.She has been published in several anthologies including "Hear Us Scream: The Voices of Horror Vol. 2", and several from Kind of a Hurricane Press, 3-Line Poetry, and Piscataway Press. In addition to this, her work is featured in Verse Wisconsin's Ellen Kort tribute issue. Gleason is also the managing editor for "Aberration Labyrinth" and "The Red Hawk Review" and is an active member of the HWA.She has a BA in English Writing, an MFA in Creative Writing, and an MA in Professional Development. Gleason has been a college English professor since 2008 and spends her spare time reading, painting creepy things, and singing a mean karaoke.Will read ARCs. If you write LitRPGs, Horror, Thrillers, Funny Fantasy, or Paranormal YA, Jessica would love to read and review them on Goodreads. Physical ARCs preferred, but will consider e-books too. Query via social media! Instagram is best. ♥️
---
Selected Poetry & Short Prose Publications
Jessica's work has been published in a variety of magazines and journals. These are some of her selected works.
Selected Books & Anthologies
Jessica has had one poetry collection published and has been included in several anthologies. Some of her early writing also included paranormal romance. Here are some selected works.
Contact & Availability
Jessica has an active social media presence. Like and follow for more up-to-date information. You can reach Jessica via her various social media channels.